This analysis was originally posted by Audit Analytics.
An average of 11% of FTSE 100 companies have changed their auditor every year since 2014. Looking at the engaged effective date of the auditor changes, we found a consistent trend in the number of changes per year: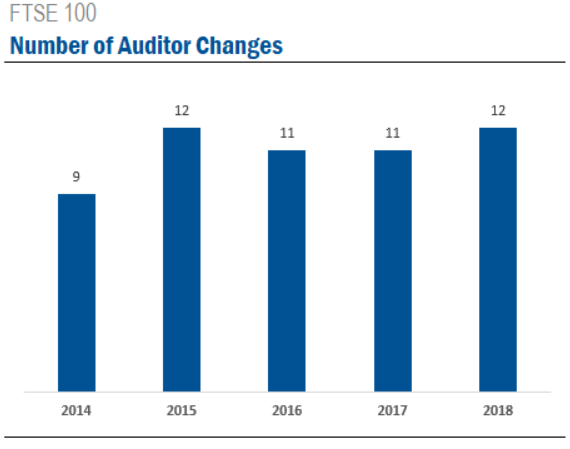 In the United Kingdom, due to mandatory firm rotation, the maximum initial audit engagement period is ten years. However, the engagement can be extended another ten years following a mandatory competitive tender process.
The twelve auditor changes effective among the FTSE 100 in 2018 are listed below1: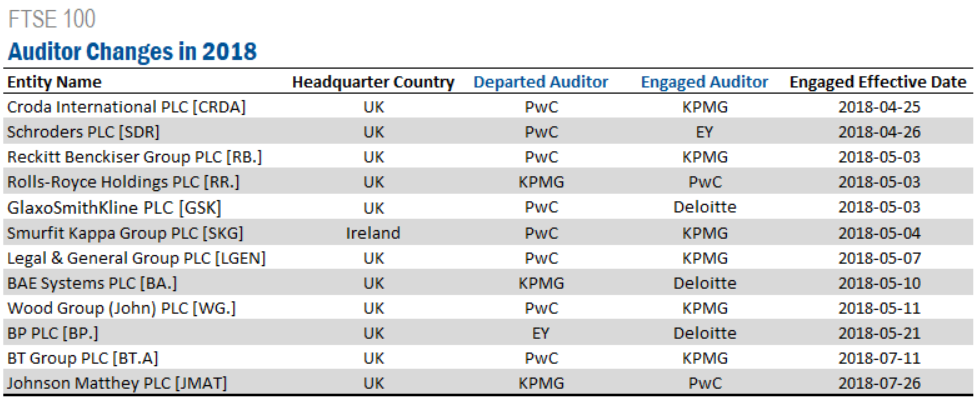 KPMG has the most new engagements among auditor changes in 2018, to date.
There have already been three auditor changes announced for 2019, as follows2:

Ernst & Young is the engaged auditor for the three changes disclosed so far in 2019.
Vodafone [VOD] is a particularly interesting case, as it switched auditors five years ago, from Deloitte to PricewaterhouseCoopers in 2014. As disclosed in a December 2018 company press release, Vodafone tendered for the 2020 financial year because it was recently named in a lawsuit by a company in which some PricewaterhouseCoopers partners act as administrators. While it determined that PricewaterhouseCoopers was independent for the year ending March 2019, Vodafone sought a new auditor given the lawsuit and future independence considerations.
Worth noting, Vodafone is the only FTSE 100 company that had more than one auditor change in the past five years.
Audit Analytics will continue to monitor auditor changes among the FTSE 100 and determine whether the 11% change pattern remains true for auditor changes effective in 2018 and 2019.
For more information on this analysis, please contact us at info@auditanalytics.com.
1. It is important to note that the number of auditor changes might go up for 2018, depending on whether, as the FY 2018 Annual Reports become available, we find additional auditor changes from a change of signed auditors from the 2017 signed Opinions to the 2018 signed Opinions.

2. Engaged effective date is based on the expected date of AGM ratification.