EAA Education Survey 2021
Highway to improved pedagogy and advanced use of educational technology
Brief description
The recently founded EAA Education Committee conducted a survey on the current state of art and future perspectives of accounting education. Altogether we received 390 responses. We thank you for your time and effort to complete this survey, and your responses help the EAA to identify how it could improve your educational competences. This survey had a slight focus on digitalized technologies, which played a major role in the Covid-19 era.
Most of the respondents are either tenured professors or full-time lecturers. They emphasize the importance of their educational activities, even more so than research. More than 80% of the respondents are working in Europe, especially in Spain, Italy, Sweden, UK, Germany and the Netherlands.
How does the current state of art look like?
Most respondents have extensive experience in teaching (more than 50 % of respondents have been teaching over 16 years) and most of respondents feel they have intermediate level digital competency. Quite a few colleagues – especially in Southern European countries – indicate to have advanced level digital expertise.
The university support on educational issues is not very comprehensive, and mainly focuses on IT related issues and teaching training programs.
Most respondents use several learning methodologies such as the case teaching method, collaborative learning and problem/project-based learning. In addition, various types of digital teaching technologies are used varying from video conferencing and learning management systems to online lectures, digital exams, media production and webinars. Covid-19 has dramatically accelerated the transition to online education.
What about future expectations?
Several respondents consider adopting new learning methodologies such as the flipped classroom, gamification, peer assessment and design thinking. They also consider using new digital teaching technologies, such as gaming, learning analytics, virtual reality, social media and smartphone applications.
Our task in the EAA Education Committee is to serve you and therefore we asked what kind of activities you would like the EAA to focus on, and at what level and how to deliver these.
In the tables below you find that there is a lot we can do for you varying from active methodologies (intermediate), big data (beginner), AI (beginner), blockchain (beginner), business intelligence (beginner), content management system (beginner), robotics (beginner), creating podcasts (beginner) and virtual / augmented reality (beginner). A lot of great topics and interestingly mainly at the beginner level.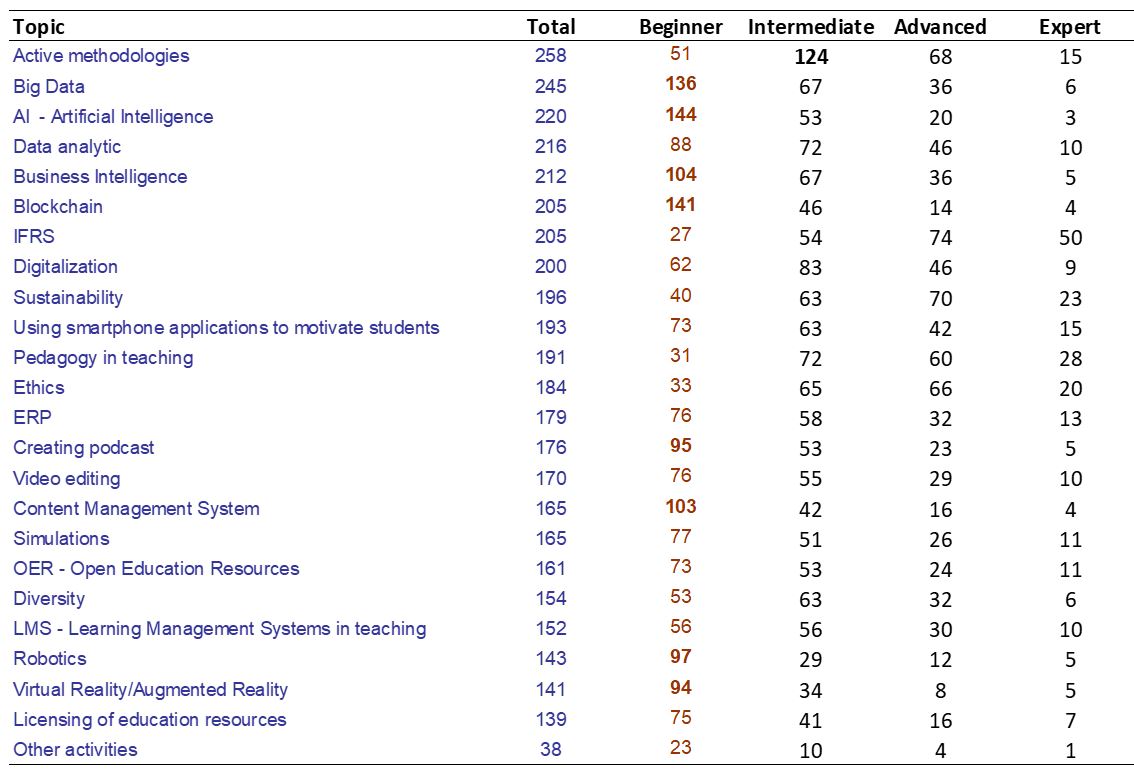 How could we deliver these new topics to you? Looks like you would prefer to share these experiences and insights using a sharing platform. For this purpose, EAA's ARC would offer a perfect solution. In addition, you would like to have short online courses, webinars and workshops. We have great opportunities for serving you on these educational issues.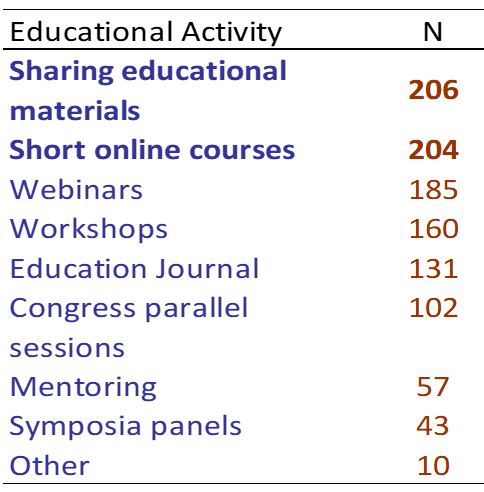 Already on June 19, 2020 we organized a first workshop on Challenges and Opportunities for On-Line Accounting Education with more than 600 participants. A second workshop on December 14, 2020 offered a post-pandemic provocation during which a panel of 6 diverse speakers engaged with the workshop participants on accounting education futures from different perspectives, including technology, equity and diversity, learning design, access to education and the new look and feel of accounting classrooms. But there is more to come:
During the EAA Virtual Congress (May 26-28, 2021): Register via the Virtual Congress website for those two events

Education Symposium on 'The future of accounting education: strategizing for 2021 and beyond' with 5 panellists (Friday May 28, 13.30-15.00 CET).

A Classroom Session on Integrating Data Analytics into Your Accounting Courses Using Power BI (Wednesday May 26, 13.30-15.00 CET).
On behalf of the entire EAA Education Committee
Philip Joos (chair) and Anastasia Kopita (vice-chair)