This analysis was originally posted by Audit Analytics.
In 2020, the Big Four continued their oligopoly across the top three indexes on the Euronext Amsterdam. However, unlike our previous analysis of 2019's market share, EY no longer holds the highest market share alone. In addition to EY, Deloitte shares most of the Euronext Amsterdam, with both firms having 21 audits or 27.3% of the market share.
In this post, we examine the auditor market share of the Euronext Amsterdam's top three indexes: the AEX 25, AMX 25, and the AScX 25 as of 2020.
AEX 25 consists of the 25 largest companies on Euronext Amsterdam
AMX 25 consists of 25 mid-cap companies of Euronext Amsterdam
AScX 25 consists of the highest 25 companies after the mid-cap
The AScX 25 can contain less than 25 companies if not enough companies meet the conditions; however, in 2020, 25 companies met the conditions.
The 2020 composition consisted of 75 companies – two of which have a joint audit, making a total of 77 audit engagements. The two companies with a joint audit are Air France–KLM and Unibail-Rodamco-Westfield.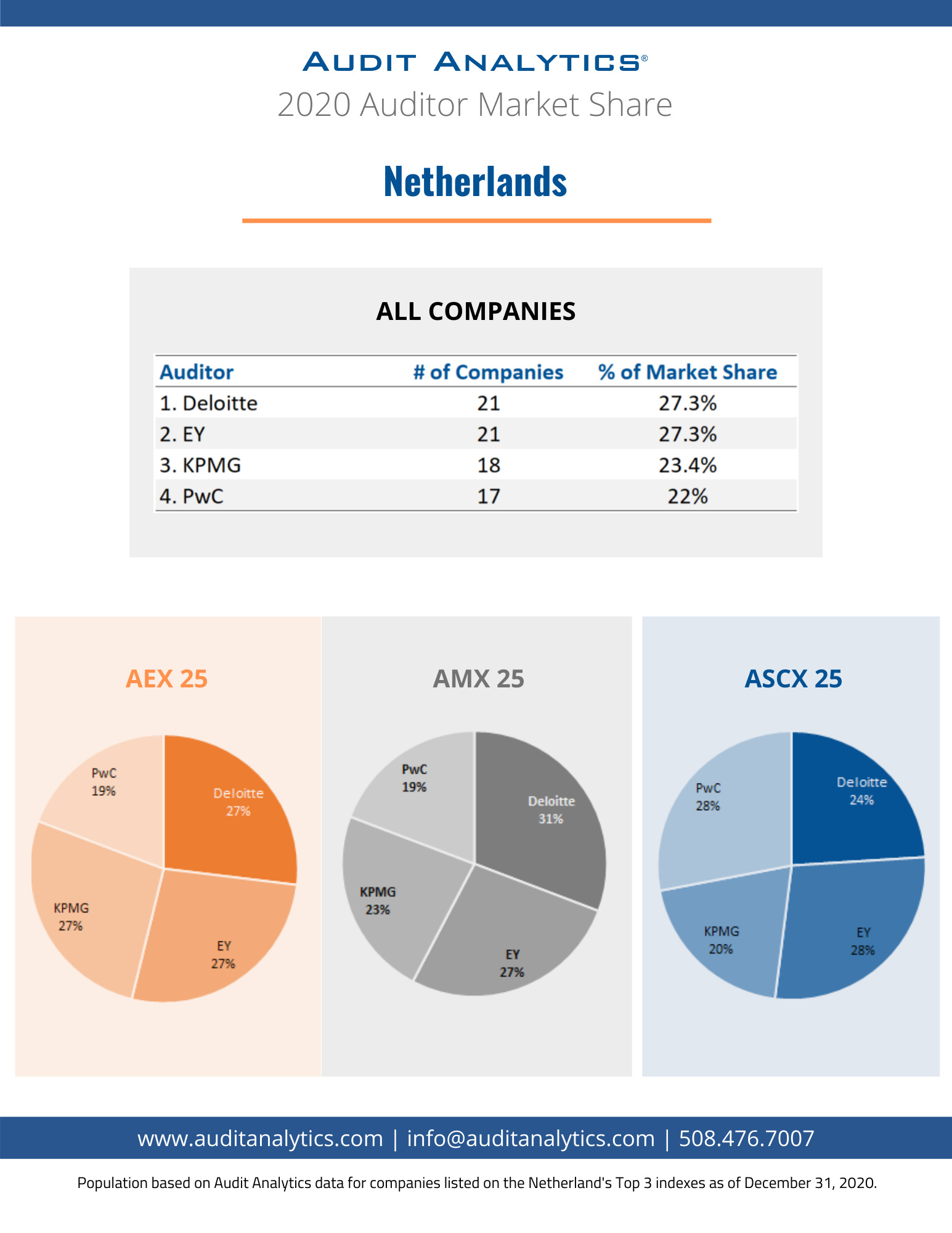 AEX 25
In 2020, there was a three-way tie for top auditor in the AEX 25 between Deloitte, EY, and KPMG. All three audit firms were engaged by seven companies in the index, that is, roughly 27% of all engagements. This left PwC with the remaining five engagements or 19% of this index. The AEX 25 included one joint audit, which brought the total number of engagements in the index to 26.
AMX 25
For the AMX 25, Deloitte held the majority with eight engagements (31%). EY followed with seven engagements (27%) and KPMG with six (23%). PwC was engaged by five companies in this index (19%). The AMX 25 also included a joint audit, which brought the total number of engagements to 26.
AScX 25
PwC and EY shared the most engagements in the AScX 15, each with seven or 28% of the market share. Deloitte and KPMG follow with six (24%) and five (20%), respectively.
---
Interested in our content? Be sure to subscribe to receive our email notifications.