This analysis was originally posted by Audit Analytics.
There were 141 audit firm departures in 2018 from companies listed on the London Stock Exchange, including the Alternative Investment Market (AIM). BDO, with a net of 20 new audit clients, accounts for the most new clients among all audit firms for LSE-listed companies in 2018.
Overall, for the Big Four and Global & National Firms in 2018, there were 119 audit client gains and 114 audit client losses.
The table below presents a comprehensive view of the gains and losses of the Big Four and global and national firms among the LSE (including AIM) during 2018, showing the number of audit clients each firm gained or lost, as well as the auditor from or to which the client was won or lost.
EY led the way among the Big Four firms, netting eight new clients in 2018. PwC wasn't far behind with a net of six new clients.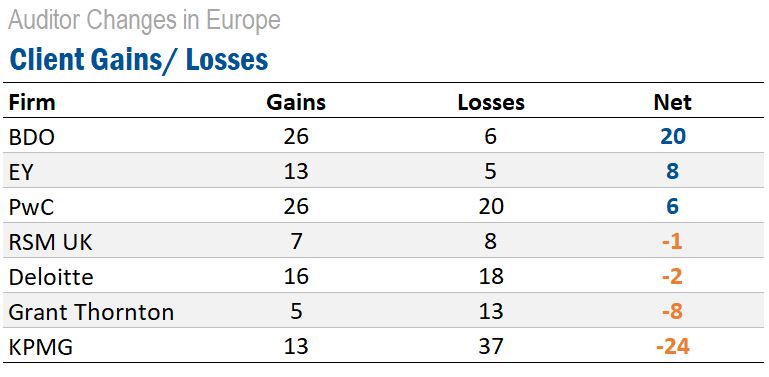 Going forward, we can expect to see some big changes in the competition of the audit market. In April 2019, the Competition and Markets Authority announced recommendations for audit market reform in its statutory audit services market study report, which aims to address competition problems in the UK audit industry – especially among the FTSE 350 where the Big Four account for over 97% of audit clients.
This overwhelming presence of the Big Four for large companies has been a source of debate regarding competition in the audit market. The competition problems have been emphasized by actions taken by firms outside of the Big Four – Grant Thornton announced they would no longer bid for FTSE 350 audits due to the competition, while BDO merged its practice with Moore Stephens LLP in February 2019 in an attempt to increase its ability to challenge existing competition.
For more information on this analysis or any of our European databases, please contact us.