Congress Venue
The congress activities will be held at the Valencia Conference Centre (design by Sir Norman Foster) and the two adjacent hotels. The Conference Centre is located in one of the main avenues of the city. It is near the airport and has excellent links into the town center and the beaches with public transport.

VALENCIA CONFERENCE CENTRE
Avenida de las Cortes Valencianas, 60
46015 Valencia (Spain)
Tel: (+34) 96 317 94 00
http://www.palcongres-vlc.com/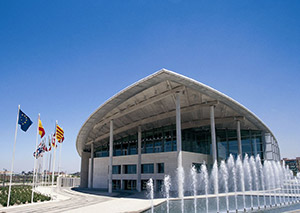 Also hotels where others congress activities will take place, are beside the Conference Centre.

SOROLLA PALACE HOTEL
Avenida de las Cortes Valencianas, 58
46015 Valencia (Spain)
Tel: (+34) 96 186 87 00
http://en.hotelsorollapalace.com/
MELIÁ VALENCIA HOTEL
Avenida de las Cortes Valencianas, 52
46015 Valencia (Spain)
Tel: (+34) 96 303 00 00
http://www.melia.com/en/hotels/spain/valencia/melia-valencia/index.html