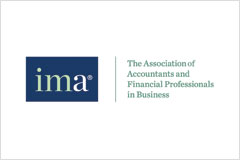 Institute of Management Accountants (IMA)
IMA®, named 2017 Professional Body of the Year by The Accountant/International Accounting Bulletin, is one of the largest and most respected associations focused exclusively on advancing the management accounting profession. Globally, IMA supports the profession through research, the CMA® (Certified Management Accountant) program, continuing education, networking, and advocacy of the highest ethical business practices. IMA has a global network of more than 100,000 members in 140 countries and 300 professional and student chapters Headquartered in Montvale, N.J., USA, IMA provides localized services through its four global regions: The Americas, Asia/Pacific, Europe, and Middle East/India. For more information about IMA, please visit www.imanet.org.

Audit Analytics
Audit Analytics is an independent research and data provider of audit, regulatory, and disclosure intelligence. Founded in 2003, we offer 70+ unique comprehensive databases of normalized qualitative data, such as financial restatements, internal control assessments, and the textual aspects of disclosures including audit opinions, late filings, and SEC comment letters.
Through an easy-to-use online interface, Audit Analytics enables the accounting, investment, regulatory, and academic communities to analyze auditor market intelligence, public company disclosure trends, and risk indicators.
Audit Analytics is used by over 300 universities around the world for archival research, classroom use, and applied learning.
For more information visit www.AuditAnalytics.com