Wednesday, 24th May 2023 Undergraduate Centre – Aalto University
14:00-15:30 Symposium 1. Contemporary Developments in Management Control Systems
SYMPOSIUM 2
Yuri Ijiri Lecture: Tracing Intellectual Origins in Accounting
Wednesday, 24th May 2023 at 16:00-17:30
Undergraduate Centre – Aalto University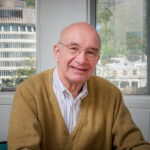 Stephen Zeff
Tracing intellectual origins in accounting should be a staple in our literature, to demonstrate that there may be writings somewhere in the long line of our published research that may help us resolve some of today's conundrums. It therefore justifies our search of the literature to unearth these writings. It also pays to learn how some early writings may have conveyed meaning in the resolution of later inquiries. I will be discussing four streams in the literature. The first proposes to identify the origins of the centrality of information for decision-making in both the management accounting and financial accounting literatures, and as well in all of the standard setters' conceptual frameworks. The second focuses on the origins of futurity in the financial accounting literature. The third treats the thread of the evolution of the literature on general price-level accounting. And the fourth, dealing with the recognition of goodwill in consolidated statements, shows how early academic writing influenced the Financial Accounting Standards Board (FASB) to require a novel approach.
Thursday, 25th May 2023 Undergraduate Centre – Aalto University
SYMPOSIUM 3
Editor's Panel: Publishing: reflections on the roles and expectations of reviewers, authors and editors
Thursday, 25th May 2023 at 09:00-10:30
Undergraduate Centre – Aalto University
11:00-12:30 Symposium 4. Accounting Requirements for Intangible Assets in Today's Business Models
14:00-15:30 Symposium 5. Regulation of Sustainability Reporting in the EU: Current State and Research Opportunities
16:00-17:30 Symposium 6. Diversity in Academic life
Friday, 26th May 2023 Undergraduate Centre – Aalto University
09:30-11:00 Symposium 7. Sustainability Reporting: Measurement of Impacts
11:30-13:00 Symposium 8. Assurance of Climate Change Reporting
14:30-16:00 Symposium 9. Should we teach more than technical content in accounting degrees?
Symposium 10
Connectivity between financial reporting and sustainability reporting information
Friday, 26th May 2023 at 14:30-16:00
Undergraduate Centre – Aalto University
The rapidly evolving corporate reporting environment including the ongoing enhancement of both sustainability and financial reporting requirements and practices underscores the importance of ensuring connectivity between these two reporting domains. The objectives and scopes of financial reporting and sustainability reporting are different. However, the two types of reporting also complement each other, interact and are both making use of assessments of future events and circumstances.
Although the term connectivity is increasingly being applied by reporting stakeholders, the thinking around this notion from both a conceptual, standard setting and practical application standpoint is at the early stages with no commonly accepted definition and with multiple questions arising. For instance, there is a need to consider how financial and sustainability reporting can jointly provide a consistent and holistic reflection of the reporting entity's circumstances and effects and meet the information needs of different types of stakeholders. Other questions are: What aspects of connectivity should be prioritised? What are the users' needs and what are the resulting mechanisms for ensuring connectivity of these needs? What role can technology fulfil? What is the impact of different time horizons and of having different users? How can the articulation of financial statements, management commentary and sustainability statements be made effective? How to foster clarity of the respective roles and scopes of financial and sustainability reporting? How to conceptualise financial materiality in sustainability statements as opposed to financial materiality in financial statements?
At this symposium, panelists will discuss the issues on connectivity between financial reporting and sustainability reporting. Participants will also receive a presentation of EFRAG's activities on the development of European Sustainability Reporting Standards (ESRS) and its IFRS influencing and proactive research workplan with a focus on projects relevant where insights from academic research are sought.