General Information
Romania is situated in the South-Eastern part of Central Europe, being the 12th largest country in Europe and home to approximately 20 million people. Romania's total territory of 238,391 sq. km. (92,043.3 sq. m.) is almost evenly divided between mountains, hills and plains, with an elevation difference of 2,544m (8,346ft) from the sea level to the highest peak in the Carpathians, Mount Moldoveanu. Romania's position on the Globe, half-distanced between the Equator and the North Pole, endows it with a temperate-continental climate. The average temperature in May and June is 24°C and 27°C (75°F to 81°F), respectively, making it an optimal time of year to visit all of Romania's regions.
With a Latin heritage and speaking the fifth Romance language (in addition to French, Spanish, Italian and Portuguese), Romanians are proud European and world citizens and long-standing contributors to the global culture, science and sports. Nadia Comăneci (world's first gymnast to be awarded a perfect score of 10.0 at the Olympic Games of 1976 in Montreal, and she obtained 7 of them), Henri Coandă (discoverer of the Coandă Effect, with practical applicability for the world's first jet aircraft, "Coanda 1910") and Constantin Brâncuşi (sculptor, author of, among others, La jeune fille sophistiquée (Portrait de Nancy Cunard), The Kiss or The Endless Column) are among Romania's most famous. In 2004 Romania officially joined NATO and at the beginning of 2007 it acceded the European Union as a full beneficiary and provider.
Cuisine
Romanians proud themselves with a varied, traditional yet refined cuisine, testifying for the country's manifold heritages. While like in many other European countries, meat was traditionally the must-have source of protein, Romanians and therefore almost all restaurants in Romania also include on their menus a series of delicious vegan dishes that charm even the most sophisticated foodies. Sarmale (cabbage or vine leaf rolls) with mămăliga (a gluten free cornmeal dish), mititei (grilled skinless pork and beef, sometimes sheep, meat sausages), Mangalița pork steaks or bean soup with pork knuckles perfectly complement the vegan dishes such as zacuscă (vegetable spread), charcoal grilled eggplant salad, bean spread, various potato dishes or vegetable soups. If you still have room for some desert, try the papanași (doughnuts with blueberry preserve and cream) or the cozonac (sweet bread with walnuts, Turkish delight or poppy seeds). For a great digestion, we suggest to start (or end) your meal with a traditional țuică or palincă (plum brandy, traditionally between 20 and 50 alcohol by volume, respectively 40 and 100 proof, sometimes more!) or any other type of fruit brandy served in any restaurant (albeit if you can get your hand on some homemade stuff, you've hit the jackpot!). Romanians also enjoy their wines and beers, and you can enjoy them (responsibly!) in any party.
Tourism
Romania's traditional and cultural roots, as well as its natural beauties, are best represented by destinations such as Transylvania, Moldavia, Maramureș, Bucovina and Dobrogea. The country features a great variety of natural landscapes and cultural resources of great value. These are complemented by invaluable archaeological sites, Dacian, Roman and Medieval remains, churches and monasteries, architectural edifices (palaces and castles), museums, the remarkable richness and diversity of its ethnic and folklore traditions, and the peoples' warm hospitality.
Best known for Bram Stoker's story of Count Dracula, Transylvania (German: Siebenbürgen) is celebrated for its canyons, virgin forests and remote ancient villages, its medieval sights and cities, fortified churches, traditional food and local culture, in a complete mixture of Romanian, Saxon and Hungarian heritages. Some of the most picturesque places in Transylvania are the Bran and the Peleș castles, the matrimonial prison of Biertan, the Turda salt mine, and the cities of Cluj-Napoca, Brașov, Sibiu, Alba Iulia or Sighișoara. Alba Iulia is the Capital of the Great Union of Romania, where in 1918 Romanians from all territories declared their unification. Cluj-Napoca's baroque-era Bánffy Palace is now a museum showcasing Romanian art. The second largest underground glacier in Europe, Scărișoara, hosts spectacular 20-foot high stalagmites and is open to the public. Viscri, one of the most beautiful villages in Romania, has charmed, among many others, King Charles III.
Moldavia, Bucovina and Maramureș are places of idyllic natural beauty that preserved traditions and archaic architecture, woodcrafts and monasteries. The cultural capital of Moldavia is Iași, which hosts the stunning Church of the Three Hierarchs, built in 1639, the neo-gothic Palace of Culture and an impressive Botanical Garden. Ancient fortresses such as Cetatea Neamțului can also be visited, as well as the 15th and 16th centuries Painted Monasteries of Bucovina, featuring colorful exterior frescoes. The Merry Cemetery in Săpânța, in Maramureș, keeps impressing its visitors with the unlikely combination of humor and wisdom in metaphors written on the crosses from the burial place right in the center of the village. The Ceahlău National Park (Romanian Olympus, sacred mountain of the Dacians) and the Bicaz Gorges are heavens for hikers and nature lovers.
Dobrogea is a place of high diversity both in terms of natural landscapes and culture. Situated in the South-Eastern part of Romania, between the Danube River and the Black Sea, Dobrogea is home to Europe's youngest land and the world's third highest biodiversity area – the Danube Delta, some of its oldest mountains, and the most popular summer destination in Romania – the seaside. Europe's second longest river, the Danube flows through 10 countries (more than any other river in the world) and 4 city capitals (Vienna, Bratislava, Budapest and Belgrade) before emptying into the Black Sea and the Danube Delta. The Greeks were the first to build colonies here, encouraged by the strategic position of the Black Sea on the commercial routes of the time, followed by the Roman, Byzantine and Ottoman Empires, thus leading to a mixed ethnic region, where Romanians coexist with populations of Greek, Turkish and Russian descent. Constanța is the most important port of the country and a truly cosmopolitan place.
The country's incredible scenery and natural ecosystems, unique architectural patterns and impressive historical vestiges have been recognized by the inclusion of over 25 landmarks from 7 different locations on the list of UNESCO world heritage sites: the churches of Moldavia, the Dacian Fortress of the Orăștie Mountains, the historic center of Sighișoara, the Monastery of Horezu (Hurezi), the villages with fortified churches in Transylvania, the wooden churches of Maramureș, and the Danube Delta.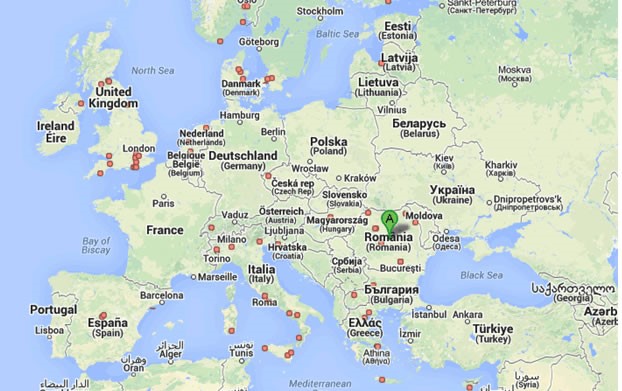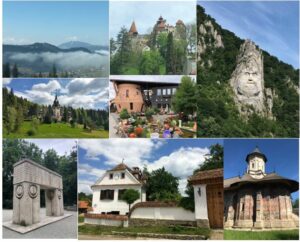 Additional information can be found by accessing the following pages:
https://www.presidency.ro/en/president/romania
Romania as tourist destination official video.