Arriving by airplane – Henri Coandă International Airport (OTP)
International flights arrive at Henri Coandă (Otopeni) International Airport (Code: OTP), through which approximately 13 million passengers travelled in 2022. OTP is connected with more than 70 international destinations, ensuring connections with flights from all over the world. About 30 airlines belonging to all major alliances service more than 130 arrival flights per day to Bucharest. There are non-stop flights to Bucharest from all major European cities, the Middle-East and Canada, as well as connecting flights from the United States, Australia and New Zealand.
OTP is located about 17 km (about 10 miles) from the Congress venues and is accessible through public transportation (express bus lines to city centre, available 24 hours a day, or taxi/transfer services). Airport facilities include ATMs, currency exchange offices, taxi desks and car rentals, as well as lounge services. Major car rental companies have offices located on the arrivals/baggage claim level, albeit public transportation is advisable in downtown Bucharest.
All airlines that serve Henri Coandă International Airport can be found here:
http://www.bucharestairports.ro/en/passengers/airlines
Arriving by airplane – other major airports
Other major cities in Romania are served by their own international airports, which consist in either alternatives to OTP for getting to Romania (connection flights from those airports to OTP are available) or means of visiting Romania's tourist attractions outside Bucharest before or after the Congress. The map of international airports in Romania can be found below: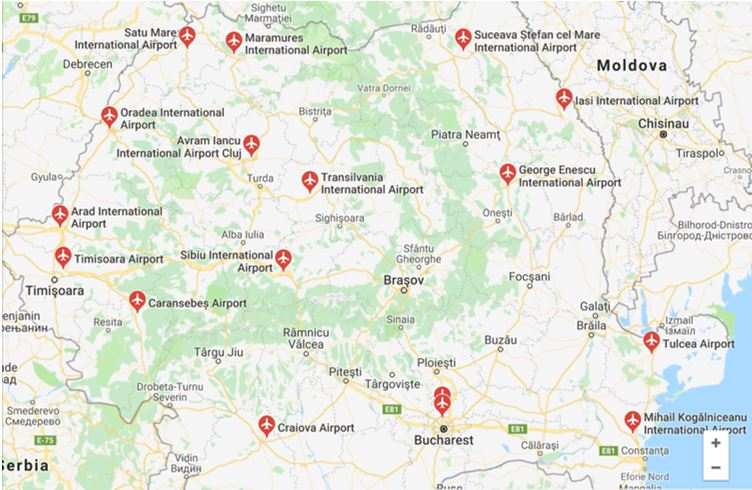 If you choose to travel to Romania through a different airport than OTP, it is highly recommended to check the available connection flights and plan your trip well in advance in order to avoid delays, long layover time, or getting stranded at the airport. The flight time from all other airports in Romania is below or around one hour, so we encourage you to take the train for such short hauls. In this respect, we offer below additional information related to both international and domestic flights operated by the airports in other major cities in Romania.
Avram Iancu International Airport Cluj (CLJ) – this is the second airport in Romania reaching about 3 million passengers per year. It is served by both budget (low cost) and full service (traditional) airlines such as Lufthansa, Tarom, LOT, Turkish Airlines, Ryanair, Hisky, Animawings or Wizz Air, from/to major European cities. There are several direct flight options daily connecting Cluj to Bucharest, operated by Tarom, with an average flight duration of 50-55 minutes.
Traian Vuia Timișoara Airport (TSR) – serves the city of Timișoara in Western Romania. Budget (low cost) and full service (traditional) airlines that operate on TSR include Tarom, Lufthansa, LOT, Austrian, Turkish Airlines, Wizz Air, Hisky and Ryanair, providing flights to and from Bucharest, Paris, London, München, Frankfurt, Bruxelles, Barcelona, Madrid, Rome, Milan and Tel Aviv, among others. There are up to 6 daily direct flights connecting Timișoara to Bucharest, the average flight time being of 1 hour.
Iasi International Airport (IAS) – serving Iaşi (Jassy), the capital of the historic region of Moldova, IAS connects the North-Eastern region of Romania (Bukovina) to major European cities, providing flights operated mainly by Tarom and Wizz Air. The domestic flights to/from Bucharest have an average duration of 1h10m.
Sibiu International Airport (SBZ) – serving Sibiu (German: Hermannstadt), SBZ hosts flights operated by airlines like Tarom, Lufthansa, Austrian Airlines, and Wizz Air. The connections to Bucharest are less frequent, with flights scheduled on Mondays, Fridays and Sundays.
Mihail Kogalniceanu International Airport Constanta (CND) – situated in the South-Eastern part of Romania, being the closest airport to the Romanian Riviera and the Danube Delta. CND has no direct connections to Bucharest.
Ștefan cel Mare International Airport Suceava (SCV) – provides flights operated by Wizz Air connecting Suceava to London, Rome, Milan and Bologna, as well as 1 daily connection to Bucharest, operated by Tarom.
Brașov-Ghimbav International Airport (GHV) s an airport located in Ghimbav, near Brașov, Romania, right by the future A3 motorway. It is the first airport to be built in Romania in the last 50 years, and the 17th commercial airport in the country.
Arriving by train – Gara de Nord railway station
The National Railways of Romania (Ro: Caile Ferate Române – CFR) is the national railway company, which through CFR Passengers (CFR Călători) provides railway public transport services offering the possibility of online purchasing of international tickets.
Tickets for international destinations can be purchased from the website www.cfrcalatori.ro, through the application Buy online tickets / International traffic or directly from this link. The application allows the online purchase of international tickets for one way or round trips. Tickets can also be purchased for a domestic route from a foreign country or for routes between two foreign countries.
Online ticket purchase for international destinations is possible within a range that can vary from maximum 3 months in advance, to:
30 minutes before the beginning of the journey, if choosing to receive the tickets via email;
2 hours before the beginning of the trip, if choosing to buy tickets from a CFR Călători station/agency;
8 days before the beginning of the trip, if choosing the tickets delivery by courier.
If the trip includes local traffic trains, tickets can be purchased maximum 1 month in advance.
In order to travel with international tickets purchased online, the passenger must take possession of these transport documents either by picking them up from a CFR station or by courier delivery, at the passenger's choice when making the order.
For updated information about the train timetable, passengers are asked to check the company's website www.cfrcalatori.ro or to contact CFR Călători by phone at 0040.21.314.5528 (for international traffic in Bucharest).
Arriving by car
Driving to/from Bucharest is also possible but, albeit scenic (including on, arguably, the oldest road over the Carpathian Mountains, TransAlpina; the "spectacular Monument to Earth-Moving Megalomania", Transfăgărășan drive, closed for weather conditions until the end of June; or TransBucegi, a beautiful cul-de-sac road that leads into the Bucegi Natural Park, open year-round), takes a long while. If your time in Romania can be extended outside the congress dates, we suggest to book accommodation on the road to/from tourist attractions located far from the city capital (about 500 km./300 miles), to avoid long and tiring driving times. The highway infrastructure is not extensive albeit slowly increasing, and often time European Routes pass through local villages and small cities, so drivers need to obey the 50/60 km/h (30/37 miles/h) speed limit. Major highways connect Bucharest to Pitești (A1), on the way to Transylvania, and Constanta (A2-A4), on the way to the Black Sea and the Danube Delta.
Transport to/in Bucharest
In Romania it is illegal for unauthorized or unsolicited drivers to approach travelers offering transportation services. Authorized transportation companies, means and apps should be used.
From Henri Coandă International Airport to Bucharest city center (about 17 km.):
By train

Direct trains between Henri Coandă International Airport (OTP) and Gara de Nord railway station are operated by CFR Călători (see above the Arriving by train paragraph), as well as Transferoviar Călători (TFC – a private company).
The trains provide a fast connection between the airport and the North Railway Station and they operate 24 hours a day, leaving every 20-40 minutes. The duration of the trip is of approx. 20-25 minutes. The cost for 1 trip is 5 lei (about 1 EUR).
Tickets can be purchased online from the supplier's website: CFR Călători https://bilete.cfrcalatori.ro/en-GB/Itineraries or Transferoviar Călători https://bilete.tfc-online.ro/en-GB/Itineraries?IsOnlySearchBox=True or directly on train at the validators or in cash.
The full train schedule (trains operated by both CFR Călători and Transferoviar Călători ) can be accessed here, with links for buying online tickets for each available train.
By bus

One Express Bus line (#783) connects Bucharest International Airport to Bucharest downtown.
Route 783 between the airport and downtown Bucharest operates 24 hours a day. At night, the bus leaves every 30 minutes.
Airport stops: departure, from downstairs in the Arrivals Terminal; arrival in front of the Departures Terminal. The STB ticket office is located downstairs from the Arrivals Terminal. From city center the cards can be purchased at STB tickets booths clearly identified in bus stations, or from STB's kiosks operating 24h/7d a week. The magnetic card should be validated (taped against) the orange machines attached to the bus poles, once on the bus. For joint rides (e.g., 2 single rides for two travelers riding together), the button marked "2" should be pushed again before another validation. When tapped again, the machine should indicate for how many rides the card was validated (1 person, 2 persons etc.). When in doubt, always ask for the assistance of fellow travelers. At the airport, usually an assistant helps travelers correctly validate their cards.
Passengers have the following options to purchase tickets:

By sending an SMS (text) to 7458, available in any network. The ticket for one ride costs 0.62 euro+VAT 19%. A confirmation SMS should be received within seconds and should be kept until getting off the bus. Additional information can be found here;
By using the free mobile app 24pay (there is no need to have a transport card); to purchase tickets through the app, after installing it on your mobile device, you will be required to add your bank card details in the payment section;
By contactless bank card, directly at the validator on the bus (this product may not be available on all ground transportation routes).
The SMS, the 24pay app wallet or the validated card should be presented upon request to official STB controllers (wearing blue vests clearly marked STB (front) and CONTROL (back), as well as controller's business IDs).

An updated bus schedule to and from the city center can be downloaded here.

By taxi

Licensed taxis without prior request, with fares between 2.59 lei/km and 3.5 lei/km (approx. 0.5-0.75 EUR/km), are available for passengers arriving at Bucharest Henri Coandă International Airport. These cars, clearly marked as "Taxi", painted in yellow and showing the fare on their front doors, are situated in a taxi station located at the exit of the arrivals terminal and will take passengers in order of arrival.
A ride at the 2.59 RON/km rate to city center should cost approx. 70 lei (about 15 EUR; current conversion rate is 5 RON/EUR), depending on the traffic. Since the cost of taxi transportation is so low, a tip of 15-20% is customary, but the receipt will only contain the metered travel cost.
Touch screen terminals for taxi requests are also available for customers who want to order taxis from a certain company, inside the arrivals terminal. Look for the yellow kiosks showing Taxi signs.
It is best to have Romanian currency to get to city center. Most taxis do not accept credit cards. Just like in any airport, the rates at currency exchange offices are not optimal. Bank ATMs in the arrivals terminal can also be used to withdraw Romanian currency. The equivalent of a maximum of 40 EUR/USD should get you into town, where much better exchange rates are available at local banks and exchange offices (need to have ID).

Other transportation services available

Shared ride services such as Uber and Bolt are also available using the corresponding mobile application. Customers can meet their drivers outside the terminal's first-floor parking lot. However, all pickup points are subject to change, so it is recommended to check the application after requesting a ride to double-check your location. In order to meet your driver, follow the instructions specified in the application. The assigned pickup points for Uber services are clearly specified and their accurate location can be specifically found on the application's map. Please note that the meeting points may not always be at your nearest exit. If you can't find your driver, contact them through the application.
Online pre-paid car service can also be hired before arrival and drivers will wait for their passengers in the arrivals terminal, clearly showing the name of the passenger.